Grade of difficulty: easy (sightseeing)
Land cost: available on request.

The price includes: Accommodation B&B (8 nights in hotels, 7 nights in trains), Train tickets Moscow- Irkutsk, Irkutsk – Beijing; All transfers according to the itinerary. All excursions, entrance fees and tours according to the itinerary, including city tours in Moscow, Irkutsk, Listvyanka and Beijing; Lunches and dinners according to the itinerary: 2 lunches and 1 dinner in Beijing, 1 dinner in Moscow, 1 lunch in Listvyanka.
Airplane tickets, Insurance, Visas, Tips are not included.
*Schedule of the sightseeing train down the Round Baikal railway is subject to changes so some changes may be required to Irkutsk section of the itinerary.
We can arrange the extensions to the route — for example, you can start from Saint-Petersburg or Helsinki.
This tour basically is the same as 15-days option but adds one extra day in Moscow and another one at Bailkal Lake, thus providing an opportunity to travel down the famous Round-Baikal Railway.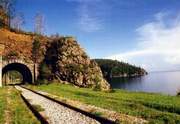 Travelling down Round-Baikal Railway

Irkutsk — the capital of the East Siberia

Baikal lake boat trip

The Great Wall and Palaces of Beijing