Grade of difficulty: easy (sightseeing)
Land cost: available on request.

The price includes: Accommodation (6 nights in hotels B&B, 7 nights in trains), Train tickets Novosibirsk – Irkutsk, Listvyanka – Slyudyanka, Slyudyanka – Ulan Ude, Ulan Ude – Vladivostok; Transfers according to the itinerary; All tours, entrance fees and tours according the itinerary (except Khanka lake reserve – it can be arranged separately if you are interested), including city tours in Novosibirsk, Irkutsk, Listvyanka, Vladivostok; Lunches and dinners according to the itinerary (1 lunch on the way to Listvyanka, 1 dinner in Ulan Ude, 1 lunch in Vladivostok).
Airplane tickets, Insurance, Visas, Tips are not included.
*Schedule of the sightseeing train down the Round Baikal railway is subject to changes so some changes may be required to Irkutsk section of the itinerary.
**Note that if you have more time than just 14 days, you can continue your adventure. You can take the advantage of the fact that Vladivostok, the final point of your journey, provides easy access to many coastal destinations: you can go to Kamchatka or Chukotka with Wild Russia, or we can organize for you shorter tours to some of the numerous Far East nature reserves so that you can spent a day or two in famous Ussuriland taiga. Optionally you can just take a rest in a wooden cottage and experience true Russian banya — being one of the famous Russian extremes, it is a real fun, especially in winter.
Also we can arrange extensions to the route — for example, you can start from Helsinki, Saint-Petersburg, or Moscow.
Starting in the western Siberia and finishing at its south-eastern end — that is, at the Japan Sea coastline, this tour is designed for those who are particularly interested in Siberian section of the railway.
You will see highlights of all four cities, the Lake Baikal and surrounding mountain ranges, travel by Round-Baikal Railway; you will see the funniest monument of the communist era — gigantic stone head of Lenin: placed in Ulan Ude, capital of Buryatia, it certainly has some Mongolian features. In Vladivostok there are lots of opportunities to explore Far East wildlife, for example, visit Amur Tiger family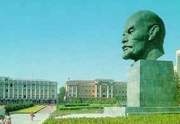 Travelling by Round Baikal Railway

Folklore village: Russian and Buryat wooden houses

Smoked Baikal omul

Ivolginsky datzan — center of Buddhism in Russia

Lenin's head — the funniest monument of the Soviet era

Visit to Amur tigers — endangered inhabitants of Far East taiga and biggest cats in the world