Food on the trains
There is a tea-urn (called titan in Russian) in each wagon, so you will always have free unlimited boiling water. Train attendants (there are 2 in each coach) will provide you will cheap tea and instant coffee, but just to be on the safe side it is better to take tea, sugar and coffee with you.
Other meals may also be available but this depends on type of train and wagon. Most long-distance trains have dining-car where you can buy drinks, snacks and ather unexpensive full meals.
Usually Russian people buy some food (tea and coffee, fruits, bread, biscuits, cheese, noodles etc) and bottled water before boarding on train or replenish their supplies in station shops along the way, but prices there are usually too high. Besides, these stays are usually very short and you can easily miss the train trying to find your favorite yogurt in a station shop.
There are numerous people selling food at the train stops. Most of the times the food is good, but it is recommended to avoid it to be on the safe side.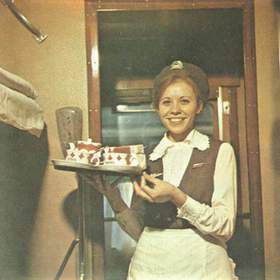 Train attendant with the tea.